---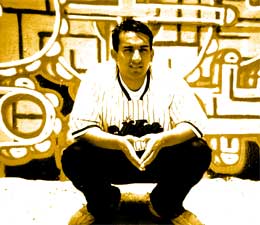 Q: What Area Do You Repersent?
A: The Bay Area.

---
Q: How Did You Get Involed With Radio?
A: I Use To Listen To Both The Underground and Radio Aztlan Formats At KSJS. One Day I Want To Find Out Way There Wasn't Anymore FREESTYLE At The Station. Someone At KSJS Told Me "The Best Way To Get Your Request Played, Was By Playing Them Yourself". So, Thats what I did!!

---
Q: How Long Have You Been At KSJS?
A: For About Three Years Now.

---
Q: Who Are Your Influences?
A: Chuck,D from Public Enemy, Paris, and Mellow Man Ace.

---
Q: What Are Your Favrite Arstist?
A: Artie Rodriguez, Lissette Melendez, Chissy I-eece, The Psycho Realm, Control Machete, La Flor De Lingo, and Actitud Maria Marta

---
Q: Who Are Your Favorite Music Producers?
A: Glenn Gutierrez, Carlos Berrios, Artie Rodirguez, Jason Roberts, Hank Shocklee, Kieth Shocklee, Gary G-Wiz, and Dj Muggs

---
Q: Have You Ever Been involved With Any Freestyle Projects?
A: Yes, Only One So Far. I Was Asked To Help Pick Songs For A Freestyle Comp, Called "DMA FREESTYLE FLAVA 3". I Also helped a few Local Label's Find Remixers, and Artist, but I'm Not Sure If That Counts?

---
Q: How Do You Keep Up With Your Freestyle, Being that Its Hard To Find?
A: By Visiting and Posting on Freestyle websites like www.FreestyleRemix.com, and www.Clubfreestyle.com, and Also By Reading DMA Magazine.

---
Q: Where Do You Shop For Freestyle?
A: Mainly At Rasputins Music, the San Leandro Store Is The Best One.

---
Q: Dj's Are You Down with?
A: Dj Frank Perez, Dj Creature both of ksjs, and Dj Eternal from Y.O.U. Productions, DaVinyl Love productions.

---
Q: Your Final Comments?
A: Yeah, Its Great Being A Part Of This Latin Freestyle Community! Its Crazy To Think That There Is A Audience Listening To What I Play, and Say. Radio Is A Power, and It Truly Needs To Represent The Wants and Needs Of The Community, I would Like To Thank The Bay Area Freestyle Community For Excepting The Way I Do Things. My Show Is About Supporting Our Community Friends, and Up & Coming Talent.
---